What's Your Home Worth?

Get a free comparative market analysis of your home's worth sent to you with no obligations.
$50k Sweepstakes FREE Mobile App Download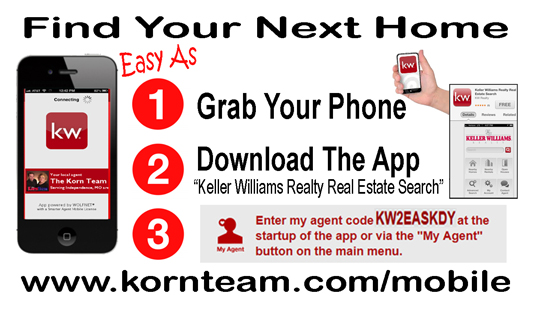 Press-Hold & Copy this Code -->
KW2EASKDY
You will be asked for this code once you install the APP
With My App you will be able to contact me anytime right from the App & Communicate directly with me
allowing our client/realtor experience to be amazing
Now just click on which APP Store you are using below
Your First Home
Looking to purchase your first home? Click here to request a complimentary copy of Your First Home: The Proven Path to Home Ownership.

WELCOME
Voted the "Most Innovative Real Estate Company" by Inman News, Keller Williams® Realty takes a different approach, one that is built on personal touches, a professional approach and positive results.
The Korn Team utilizes the latest technologies, market research and business strategies to meet your expectations. However, more importantly, we listen and that means we find solutions that are tailored to you.
Click on one of our services to see what The Korn Team has to offer you.